Behold, how good and how pleasant for brothers and sisters to dwell together in Unity -- Psalm 133

to our weekly email listing of upcoming events in Unity.
---
Town of Unity
American Legion Post 50
Birding
Business Directory
Comprehensive Plan
Churches
Unity Food Pantry
Friends of Lake Winnecook
Future MSAD3
The Garcelon House
Historical Society
Library
Lodging
MOFGA
Najean Shedyak Photography
Northern Solstice Alpacas
Realtors
Recycling
Restaurants
Rotary Club
Schools (RSU3)
Sebasticook Regional Land Trust
Trails
Unitel
Unitel Phonebook
Unity Barn Raisers
Unity Centre for Performing Arts
Unity College
Unity Flower Shop
Unity Food Hub
Unity Forge
Unity Foundation
Unity Pond Pottery
Unity Raceway
Unity Station
Unity Utilities District
WERU Radio
---
Week of October 23, 2016

Unity Town Office Hours for October 24 – November 4
Closed Monday & Wednesday
Open Tuesday, Thursday, Friday 8:30am – 2:30pm
Plus Tuesday 5pm - 7pm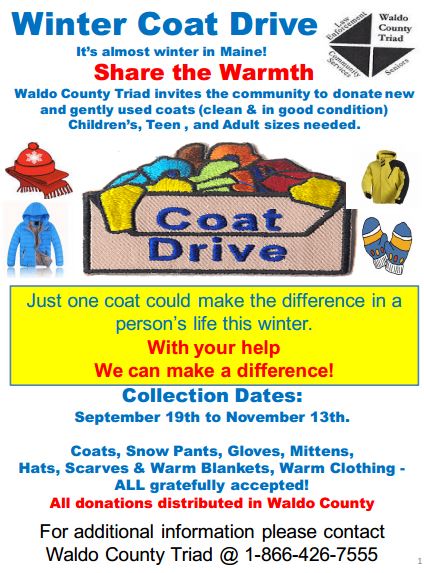 Sunday October 23
The kids will be bringing home all kinds of sweets from the candy pounce on the frontstretch. Bring your own trick or treat bucket to get all the candy you can! Racing begins at 2:30 with the Super Stock Halloween Bash 100 for just $5 Reminder, there will be no concessions in the pits! Sorry for the inconvenience, Grandstand side will be open though.
Tuesday October 25
Veggies For All 15th and final harvest of the season. So if you haven't gotten out to volunteer all year, consider helping us cut cabbages near the new parking lot on the Unity College campus. From downtown Unity, head south on Rt-202 and go about a 1/4 mile past the college's sign on Quaker Hill Rd. There will be a small white and black VFA sign along the road on your left hand side. Turn into that driveway.

Book Signing and talk by Douglas Rooks. 7 pm at Unity College Center For the Performing Arts, 42 Depot Street in Unity. Free. Douglas Rooks will speak about his first book, "Statesman," a thorough examination of the life of one of Maine's best known Senators, George Mitchell. Rooks will sign copies of the book during post-talk reception in our Leonard R. Craig Gallery.
Wednesday October 26
Unity Planning Board Meeting 7 pm at the Town Office.
Thursday October 27
Free Probate Basics Workshop 1 pm at Unity Community Center. Come learn about medical and financial powers of attorney. Free forms and cookies too! Presented by Susan W. Longley, Esq, Waldo County Judge of Probate.
Friday October 28
Monday October 31
Saturday November 5
Hunter's Spaghetti Supper 4:30 to 7:30 pm at Star In The West Masonic Hall, 327 Main Street in Unity. Adults $7.00; age 10 & under $3.50. Proceeds benefit Star In The West Lodge #85 and Josiah H. Drummond Chapter #91, Order of the Eastern Star.

ScuffleHoeDown: Veggies For All Celebration with Hymn For Her @ 7:00 pm - 9:00 pm at the Unity Food Hub, 69 School Street in Unity.
Tuesday November 8
Election Day. Unity voting will be at the Community Center from 8 am to 8 pm. Early voting is possible by filling out an absentee ballot at the town office.
Saturday November 12
Wednesday November 16
Restoring Connections to Place Monthly Speaker Series, 6:30 PM, SRLT office, 93 Main St., Unity. Sebasticook Regional Land Trust Board Chair Dylan Dillaway will speak on community conservation, an approach to conservation that works to develop healthy, whole communities and involve a broader spectrum of people on the land.