Behold, how good and how pleasant for brothers and sisters to dwell together in Unity -- Psalm 133

to our weekly email listing of upcoming events in Unity.
---
Town of Unity
American Legion Post 50
Birding
Business Directory
Comprehensive Plan
Churches
Unity Food Pantry
Friends of Lake Winnecook
Future MSAD3
The Garcelon House
Historical Society
Library
Lodging
MOFGA
Najean Shedyak Photography
Northern Solstice Alpacas
Realtors
Recycling
Restaurants
Rotary Club
Schools (RSU3)
Sebasticook Regional Land Trust
Trails
Unitel
Unitel Phonebook
Unity Barn Raisers
Unity Centre for Performing Arts
Unity College
Unity Flower Shop
Unity Food Hub
Unity Forge
Unity Foundation
Unity Pond Pottery
Unity Raceway
Unity Station
Unity Utilities District
WERU Radio
---
Week of January 22, 2017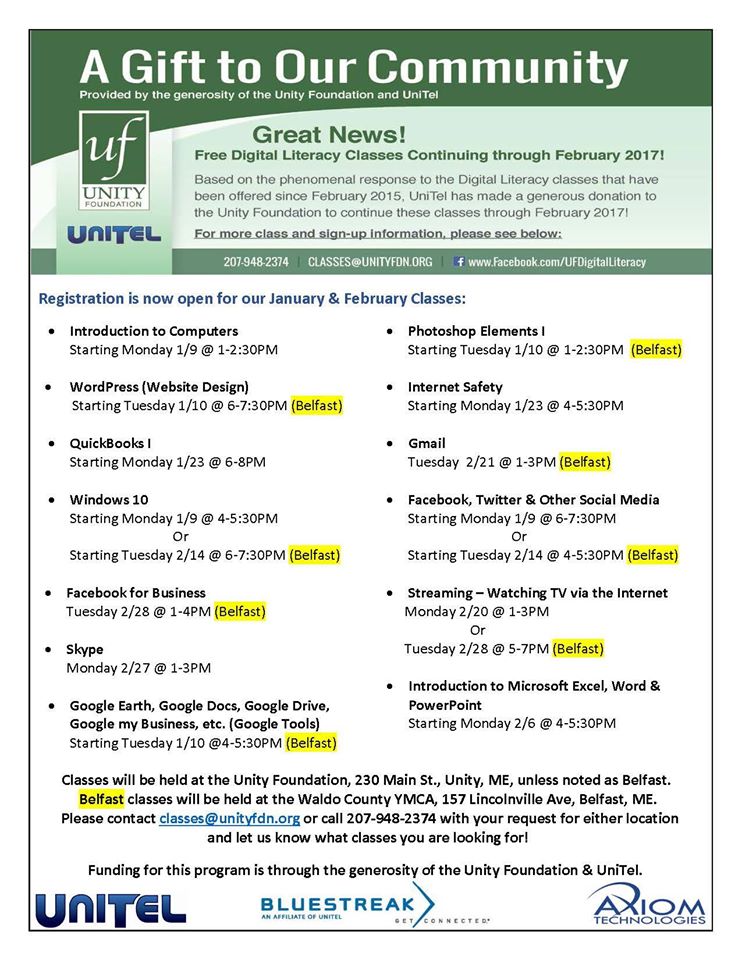 Sunday January 22
Tuesday January 24
Wednesday January 25
Thursday January 26
Unity Budget Committee Meeting 6:30 PM at the UBR Community Center. The Annual Budget Committee Meeting will be in mid February once the Town books are closed.
Friday January 27
Spiritual Rez 7:00pm at Unity College Center for the Performing Arts. Tickets: $12.00. The Spiritual Rez reggae funk dance experience is an unabashed display of musical virtuosity. When paired with a deep, sub-sonic groove and powerful heart felt vocalization; crowds are left dancing and screaming for more.
Saturday January 28
Wednesday February 1
Stumped About Tree Growth? Understanding Maine's Tree Growth Tax Law 6:30 pm at the Unity Community Center. Maine Forest Service District Forester Morten Moesswilde will detail the whys and hows of Maine's Tree Growth Property Tax program. The tree growth program provides eligible woodland owners with reduced property tax valuations if they commit to managing the land long-term for forest products.
For more information, please contact the co-sponsors: Unity Barn Raisers (948-9005, programs@unitybarnraisers.org); Waldo County Soil & Water Conservation District (338-1964, kym.sanderson@me.nacdnet.net); Midcoast Conservancy (389-5150; news@midcoastconservancy.org); Knox-Lincoln Soil & Water Conservation District (596-2040 or info@knox-lincoln.org). You may also contact MFS District Forester Morten Moesswilde, 441-2895 or morten.moesswilde@maine.gov.
Tuesday February 7
Wednesday February 8
Restoring Connections to Place, an SRLT Monthly Speaker Series. 6:30 PM, 93 Main Street in Unity. Rewilding: Transcending the Human/Nature Divide.. Susie O'Keeffe of Montville will speak about the rewilding movement, or the restoration of self-regulating land communities. Her talk will briefly introduce six areas of ecological research—extinction dynamics, island biogeography, metapopulation theory, natural disturbance ecology, top-down regulation by large carnivores, and landscape-scale ecological restoration. The presentation will then touch on how history, culture and language shape our experience of wilderness and wildness. Susie is a Research Associate at the College of the Atlantic.

Unity Annual Budget Committee meeting 6:30 pm at the Community Center.
Friday February 10
Full Moon Walk: A Moon and Torchlit Adventure 6:00 - 8:30pm at the Carlson Woods Conservation Easement, Unity (Meet inside at 573 Waning Road). Join the Sebasticook Regional Land Trust for torch-making, nighttime awareness skills, and a magical walk under the full moon peppered with songs, stories, and signs of animals. Arrive at 6pm to learn how to make mullein torches, then head out into the night on the new woodland trail to visit natural springs, deer beds, coyote scent posts, and ancient maple trees. We'll walk a loop and warm up again inside by the woodstove with hot cocoa and snacks. All ages are welcome; total walking distance is less than a mile. Snowshoes may be helpful if snow is deep. For more information, or to register, contact Doug at 207-948-3766 or e-mail info@sebasticookrlt.org
Saturday February 11
Beginning Beekeeping Workshop 10 a.m. to 4 p.m. at MOFGA's Common Ground Education Center in Unity. Instructor is David Smith of Sparky's Apiaries. Our beekeeping short course will cover the essentials to get you going in the world of beekeeping. Fee: $50 for MOFGA members; $75 for non-members.Please bring your own lunch to this event

Mobsters, Molls, and Murder! - 5:30pm at Unity College Center for the Performing Arts. Tickets: $50.00.
Join us on February 11th for Mobsters, Molls, and Murder! Dress up in your best glad rags and try to solve this interactive mystery over a decadent meal with old rivals and jealous, revenge seeking lovers.
Dinner includes: Shrimp Cocktail, Stuffed Mushrooms, and Caprese Skewers for hors d'oeuvers, a cash bar from 5:30-6:15, green Irish salad, a raspberry sorbet served in a wine glass, an Italian flag pasta with pesto, alfredo, and marinara pastas all served with grilled chicken and fresh basil, with a tiramisu top off for dessert. Each guest over 21 will get a signature Blood Orange Martini with their entree. Vegan, Gluten free, and Vegetarian options available if needed. The ladies who run the Irish and Italian families will be there - will you? Join us as the bodies fall and the tensions rise at a wine and dine event you will never forget! *Tickets must be purchased in advanced.*
Tuesday February 21