Behold, how good and how pleasant for brothers and sisters to dwell together in Unity -- Psalm 133

to our weekly email listing of upcoming events in Unity.
---
Town of Unity
American Legion Post 50
Birding
Business Directory
Comprehensive Plan
Churches
Unity Food Pantry
Friends of Lake Winnecook
Future MSAD3
The Garcelon House
Historical Society
Library
Lodging
MOFGA
Najean Shedyak Photography
Northern Solstice Alpacas
Realtors
Recycling
Restaurants
Rotary Club
Schools (RSU3)
Sebasticook Regional Land Trust
Trails
Unitel
Unitel Phonebook
Unity Barn Raisers
Unity Centre for Performing Arts
Unity College
Unity Flower Shop
Unity Food Hub
Unity Forge
Unity Foundation
Unity Pond Pottery
Unity Raceway
Unity Station
Unity Utilities District
WERU Radio
---
Week of February 19, 2017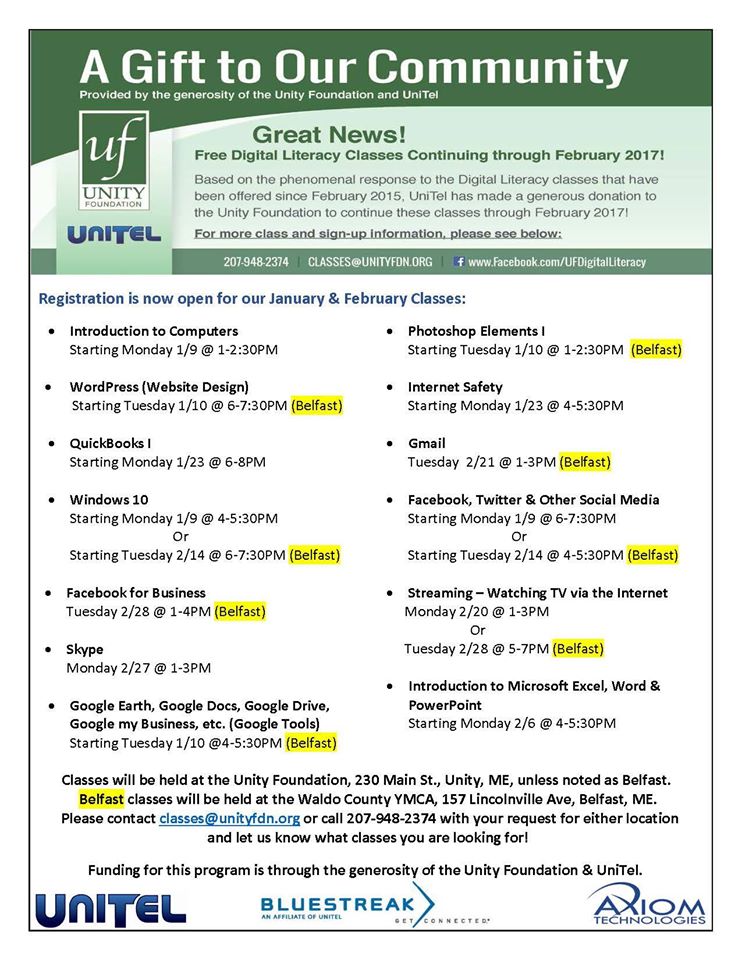 Sunday February 19
Tuesday February 21
Wednesday February 22
Thursday February 23
Hills to Sea Trail. Unity College alum and local business owner Ryan Howes '07 will speak about the Hills to Sea Trail as a local resource and as a pathway for partnership and community engagement. Howes ran the 47-mile trail in one day last fall. The talk is noon to 12:30 p.m. Thursday, Feb. 23, in Higgins Wing Room 212 of the Student Activities Center. Free.
Saturday February 25
Sunday February 26
Advanced Business Planning Workshop with Richard Wiswall Sunday, 9:30-4:00; Monday, 9:30-12:00 at MOFGA's Common Ground Education Center. $100 per person; $135 for two people coming from the same farm. Lunch is included on Sunday. This one-and-a-half day workshop will help established and beginning farmers and is best suited for those with at least one year of farm production data or similar experience. The aims of the workshop are to plan for profit, examine YOUR farm enterprises, better understand financial statements and to learn about creating production and record keeping efficiencies. Instructor Richard Wiswall is the owner/operator of Cate Farm in Vermont and author of "The Organic Farmer's Business Handbook." More information on our website.
Tuesday February 28
Lecture by Jonathan White, author of Tides: The Science and Spirit of the Ocean. 6:00pm at Unity College Center for the Performing Arts. Free. In the book, Jonathan takes readers on a journey spanning the globe as he examines the many dimensions of the tides, the science behind them, and how they influence culture. Jonathan's twenty years of research took him to five continents where he saw the largest, fastest, scariest, and most amazing tides in the world. With Lukasi Nappaaluk, an Inuit elder, he slithered through a hole in the arctic ice and gathered mussels in the dark cavities left behind by a dropping tide. In China, he witnessed the world's largest tidal bore, a 25-foot wave that charges up an eighty-mile river at twenty miles an hour. At Mont St. Michel in France, he learned how the monks are inspired by the tide. And at the Royal Society of London, he researched how Plato and Aristotle, Leonardo de Vinci, Newton, Descartes, and many other noted thinkers had been captivated – and befuddled! – by the science of the tides.
Friday March 3
Saturday March 4
Sunday March 5
Wednesday March 8
Public Notice: The Town of Unity will hold a public hearing to discuss a proposed ordinance prohibiting marijuana retail stores and social clubs in Unity. The hearing is scheduled for 6:30pm at the Unity Community Center, 32 School Street. Here is Some Background Information and the Proposed Ordinance.
Tuesday March 14
Friday March 17