Behold, how good and how pleasant for brothers and sisters to dwell together in Unity -- Psalm 133

to our weekly email listing of upcoming events in Unity.
---
Town of Unity
American Legion Post 50
Birding
Business Directory
Comprehensive Plan
Churches
Unity Food Pantry
Friends of Lake Winnecook
Future MSAD3
The Garcelon House
Historical Society
Library
Lodging
MOFGA
Najean Shedyak Photography
Northern Solstice Alpacas
Realtors
Recycling
Restaurants
Rotary Club
Schools (RSU3)
Sebasticook Regional Land Trust
Trails
Unitel
Unitel Phonebook
Unity Barn Raisers
Unity Centre for Performing Arts
Unity College
Unity Flower Shop
Unity Food Hub
Unity Forge
Unity Foundation
Unity Pond Pottery
Unity Raceway
Unity Station
Unity Utilities District
WERU Radio
---
Week of March 19, 2017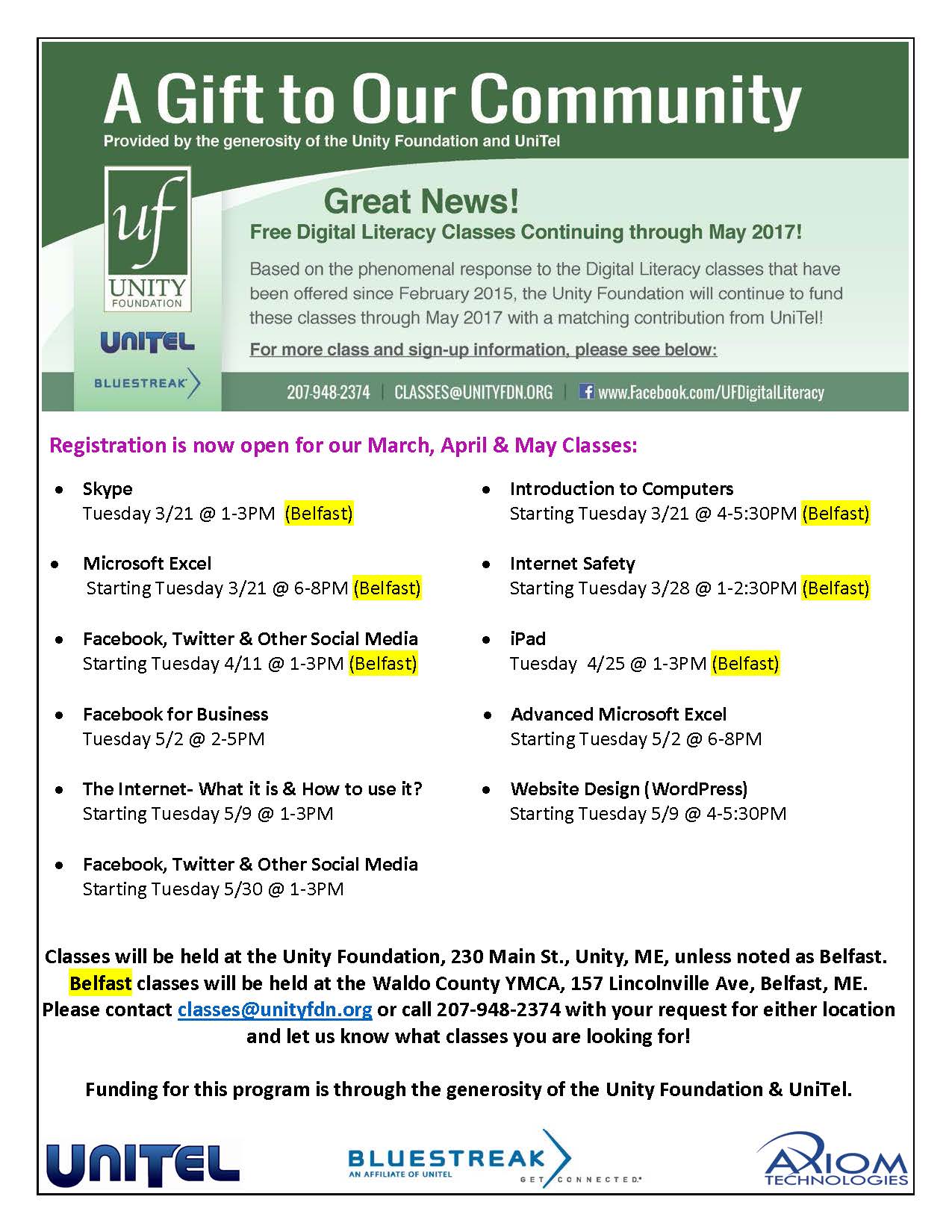 Sunday March 19
Monday March 20
Tuesday March 21
Wednesday March 22
Friday March 24
Voting at the Unity Town Office 12 noon to 8 pm. Elections for Town Meeting Moderator, Selectman, School Board Rep, and Unity Utilities Trustee.
Saturday March 25
Sunday March 26
Saturday April 1
Beatles For Sale 7 pm at Unity College Center for the Performing Arts. Beatles For Sale is an award-winning, New England-based Beatles tribute band that is committed to recreating the sounds of the Beatles live in concert. This band of talented musicians was drawn together by their love of Beatles music and the desire to keep the music alive, bringing it to a whole new generation of Beatles fans.
Sunday April 2
Goat Agility Training 1-2 pm at McKay Farm and Research Center, Route 220 in Thorndike. Unity College's own Jenny and Pieter deHart will demonstrate how they have trained their goats and how you can too! Cost-$10 per person, $19/couple, includes one button clicker per person.
Friday April 7
Wednesday April 12
Hills-to-Sea Trail with Buck O'Herin and Tom Mullin 6:30 PM at 93 Main Street, Unity. The 47-mile footpath is complete with an expected opening this spring. Join Buck O'Herin and Tom Mullin of the Waldo County Trails Coalition to learn about this new trail connecting Unity to Belfast. Find out about the history and building of this inspiring project and how you can get involved to support this community resource. This presentation is part of "Restoring Connections to Place," an Sebasticook Regional Land Trust Monthly Speaker Series.
Friday April 21
Saturday April 22
Community Garage Sale April 22 and 23 at McKay Farm in Thorndike. Clean out your junk and bring it to McKay Farm to try and sell! 10 x 10 spaces with tables available for rent- $15 for one day, $25 for both days. Setup starting at 8 AM both days. Open and free to the public 10-4 each day! Concessions will be available! On Sunday April 23 from 1-2 PM Join Karin Otto of Waterfall Arts in Belfast as she talks about the "Living Wall" of succulents on display and how you can make one for yourself! Cost is $12 per person, includes one succulent plant